Contactless Cards
Faster Transactions
Your new card includes the latest chip technology including support for contactless transactions.
Contactless means you don't have to insert your card into the point-of-sale terminal and wait...
Save time every time you tap.
Secure Transactions
Every chip transaction and every contactless transaction includes a unique code, helping to protect against fraud and keep your information safe.
The information on your card is protected by unique keys.
Contactless transactions only work within 1-2 inches from the point-of-sale terminal.
How to Use Your Contactless Card
Look for the contactless symbol on the payment terminal
Tap your card to the front of the POS terminal
Wait for a beep or green light before removing your card (you can put your card away — you won't need it again)
Follow any instructions on the screen (you might be asked to sign or to enter your PIN)

More merchants are rolling out support for contactless every day:
Drug Stores
Vending Machines
Fast Food
Transit
Supermarkets
Convenience Stores
Your card will work everywhere!
You can be confident that your card will work everywhere around the world. Depending on the location, you have options:
Learn more about Contactless Cards by watching our video tutorial. If you have questions, please call us at 1-800-342-0679.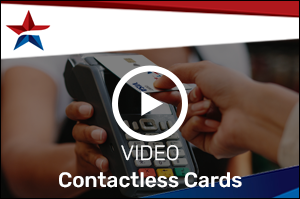 To apply for a new or replacement TrustTexas Bank Visa® Debit Card, click below:
To report a lost or stolen TrustTexas Bank Visa® Debit Card
During business hours:
800-342-0679
After regular banking hours:
800-554-8969
If you plan to use your TrustTexas Bank Visa® Debit Card while traveling, please notify us by clicking below:
Debit Card Travel Notification
Visa Account Updater Service (VAU)
Effective October 2017, your TrustTexas Bank Visa® Debit Card was automatically enrolled in the Visa Account Updater Service (VAU). Visa Account Updater (VAU) enables the secure electronic exchange of card information changes between participating Visa merchants and card issuers to ensure as little disruption as possible for your recurring card transactions or account-on-file billers.
If your debit card is replaced, the new card information will be sent to your billers if they also participate in this service, to prevent declined transactions. This means you won't have to update your card information on file; however, not all merchants will participate, so it's still recommended you verify your billing information on file when you receive your new card.
Some examples of recurring card transactions are:
Netflix, Hulu, or other streaming services
monthly utilities
gym memberships
insurance premiums
recurring charitable donations
Some examples of account-on-file transactions are:
Uber, Lyft, or other ride-hailing services
online shopping websites
online payment services
prescriptions
This service is available to all our cardholders for no charge. If you would rather NOT have your new card information securely updated with your billers and regular merchants, you may opt-out of the service. For questions or to opt-out of VAU, please contact us at 1-800-342-0679.