Bill Pay Features:
Pay bills directly from your online banking account—no more writing checks or payments getting lost in the mail
Pay all your bills in one place with one password
Ease of use – just click who to pay, enter a few bill details and select a payment date
Schedule one-time and recurring payments in advance
Pay bills with our Mobile and Tablet Banking apps
Digitize paper bills with Bill Capture
Don't Forget - BILL PAY is now FREE with the enrollment of e-Statements!
If you prefer to receive a paper statement, Bill Pay is available for $4.00 per month.

Send, request and receive money the easy way.
The Popmoney® personal payment service lets you send, request and receive money to or from friends, family or just about anyone, online or through your mobile device.
Popmoney is the fast and easy way to:
Send money securely
Request money in a snap
Split an expense or collect from groups
Popmoney can be used to:
Repay a friend for your portion of a dinner bill
Send money to your child at college
Send a gift to family and friends
Send rent to your landlord or roommates
Sign up today for Online Banking and Bill Pay and enjoy access to Popmoney!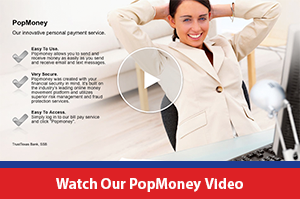 If you need assistance or have any questions, give us a call at 1-800-342-0679 during regular banking hours. We are ready to help!