CardValet® Features:
Turn your debit card on or off
Establish transaction controls for dollar amount limits, merchant categories and geographic locations
Receive real-time alerts when your debit card is used, approved or exceeds the transaction controls set by you
Stay informed of potential fraud with alerts on attempted, declined transactions
Get updated balances for your accounts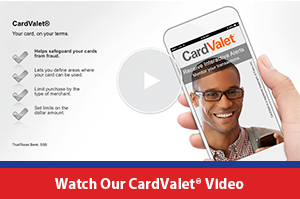 Get started today!
Download the CardValet® app for your Apple iPhone® or Android™ phone.
You will be asked to enter your card information and validate your identity during registration.
For more information, please read our CardValet FAQs or contact us at 1-800-342-0679 during normal banking hours. We are ready to help!